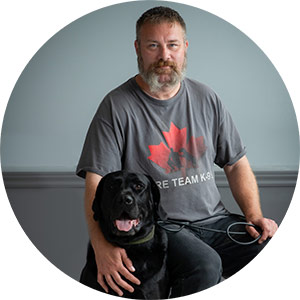 Jeff Hinch
Jeff Hinch served in the army for more than twenty years.  He lives with his wife, Jen, his sons, Max and Jack, a couple of bulldogs and his Service Dog, Judah. Dogs have always been a big part of his life. After struggling with PTSD and injuries, Sean Cairns introduced the benefits of Service Dogs and handled his transition with Judah. Having Judah as a partner changed Jeff's life. The difference was so phenomenal, Jeff set out to help fellow veterans, first responders, and dog owners.  Jeff is the co-founder and president of Fire Team K9's.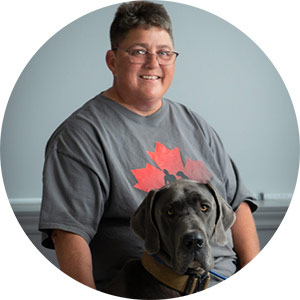 Nancy Berube
Nancy Berube is a veteran of law enforcement and the military. She resides in Petawawa with her service dog partner Professor.  Nancy is a trainer and handler with a natural flare for animals. Professor had such an impact on her life she wanted to volunteer. She is now a VP on our Board of Directors.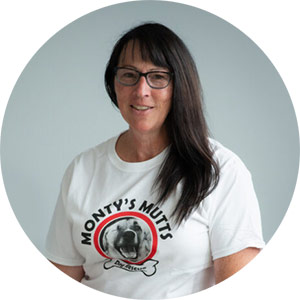 Lisa Cundal
Lisa has been helping animals and rescuing dogs her entire adult life, either by taking them in personally or taking them in to find homes for them.
In December 2019 she met Jeff Hinch, President of Fire Team K9's, when she reached out for training with her 3 dogs.  In February 2020, Montys Mutts, the rescue division of K-9 Headquarters, was formed with Lisa as the Director.
The mission is simple, save as many dogs as possible and give them the lives they deserve.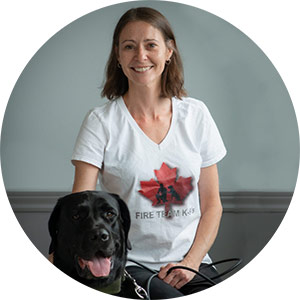 Jen Hinch
Jennifer Hinch is the wife of Jeff Hinch and mother of two boys. Dogs have always been an integral part of Jen's life. Along with a couple of bulldogs, she has the privilege of living with a service dog Judah.  She sees firsthand the incredible difference a service dog partner can make. Jen is the secretary at Fire Team K9's and is always happy to answer any questions. Contact Jen anytime.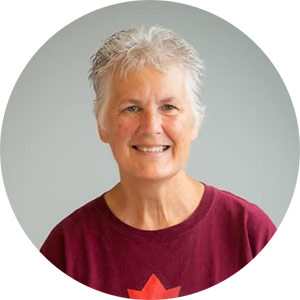 Debbie Hobbs
As a valley girl who grew up on a small hobby farm, my chores started at a young age with the responsibility of feeding and caring for our ponies, calves and of course pups.
I first met Nancy and Jeff in August of 2019 when I applied to be a foster handler with Fire Team K-9's. My adventure began when I started working with my first foster dog Annie. She changed my life forever. Moving forward, I was mentored under Nancy and Jeff to first become a dog handler, then a trainer coach and finally a training instructor.
Another role I play is "Student Pack Leader". I am responsible for student volunteers who are working towards their community hours, guiding and expanding their knowledge in our doggy world.  This program has been very successful in achieving some very proud moments as I see my students become extremely confident dog handlers and even continuing past the completion of their student handler hours to becoming training coaches.
Doggy Daycare Supervisor is one of my many hats I wear proudly.  In this role I guide and instruct our staff on handling dogs in a large pack, providing tips on proper leash walking, setting up activities within the daycare, providing temperament assessments to new clients before having them enter our daycare program.
I have been with Fire Team K-9's since August 2019.  I have witnessed the initial beginnings of the K-9 Headquarters, I have advanced my knowledge of dog training while continuing to foster and handle Service Dogs.  I continue to work with the service dogs and their human partners.  I instruct the Polite Puppy course and the Jr K9 Confidence course with the training academy.
Pick a favourite, impossible but I must share one lasting impression.  The feeling I had during the last few visits with my stepdad and having Annie by my side gave me the true meaning and purpose in life.  A Fire Team K-9 partner has your back.
Certificates Include:
Dog Handler
Trainer Coach
Training Instructor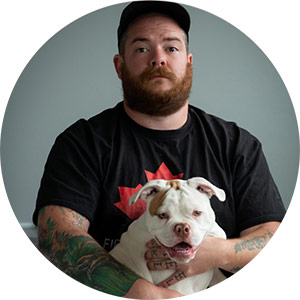 Jeff Matchim
Need BIO for Jeff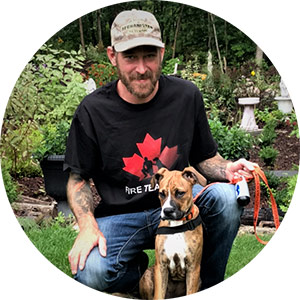 Eric Gilbert
Eric Gilbert has 18 years in the Royal Canadian Regiment.  He's still serving.  Eric is a member of Legion Branch 436.  He saw the amazing effects service dogs had on some of his comrades and wanted to get involved.  He has experience training Police Dogs in Guelph, Ontario.  
Eric is married to his wife Katie and has 2 Boston Terriers, Piper and Stella.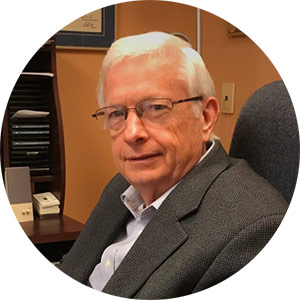 Dr. Len Gignac
Need Bio for Dr. Len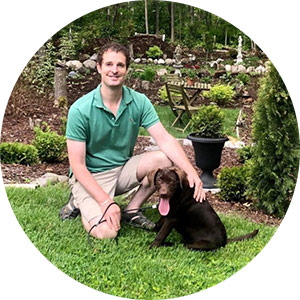 Sol Fried
Sol Fried is a registered psychotherapist in the province of Ontario residing in the beautiful Ottawa Valley. Sol has had a service dog, Bebe, for 12 years, and is looking forward to training his next one with Fire Team k9's.
Sol Provides mental health counseling and therapy to adolescents, adults, and seniors facing various life challenges including (but not limited to): trauma, anxiety, depression, relationships, school, and living with a life long disability. So is liaison support for all clients and team members of Fire Team K9's

Lori Ore
I have been working with dogs for 15+ years and since then, it has been passion of mine to care for their health, beauty and well-being. In 2005, I started a full-time job at Petsmart as a dog bather where I became safety-certified and bathe different breeds of dogs. After 6 months, my salon manager saw how much I loved working with dogs and how much I paid attention to detail so she sent me to grooming school in order to become a dog groomer. At Petsmart's Grooming Academy, I attended classes where I learned basic dog anatomy and had in-salon training where I learned to use grooming tools & how to groom specific breeds & styles. This led to an amazing career in dog grooming and I've had the amazing opportunity of working alongside talented and experienced dog groomers; 7 years in the United States and 8 years in Canada.
I also worked as a dog groomer while attending university full-time in Manitoba, Canada. I graduated with a Fine Arts degree which really inspired my grooming skills. I have an artistic eye to drive myself to be an exceptional and professional dog groomer. Over the years, I have maintained my continued education and interest in dog grooming by traveling to grooming trade shows, seminars and workshops. Now, I am the Head Groomer at K9 Headquarters in Pembroke, Ontario.
My daily duties include:
Bathing and clipping dogs to conform to a variety of breed-specific standard styles or accommodating any special requests from the owner. Detangling and removing matted hair; shaving coat if needed.
Checking for skin conditions and parasites.
Using the appropriate shampoo and conditioner and then drying the coat with a high-velocity dryer.
Trimming nails and cleaning the ears.
Adding finishing touches such as bows/bowties/bandanas.
Informing owners of any health issues discovered during the grooming process.
I take a lot of responsibility and pride to guarantee a professional service and provide a higher level of personal care and attention to each client. I have grasped the patience in handling very difficult and/or nervous dogs with a comforting energy to bring some tranquillity to the overall grooming experience. I am also very careful and take proper safety precautions to minimize the risk of bites and scratches.
Working with dogs has brought me so much happiness. I care for them as if they were my very own and I cherish the time we spend together in the grooming salon; whether it's during a quick nail trim or a full groom. Being a dog groomer puts me at ease and I couldn't ask for a better job. It is the same feeling I get when I create art. Each pet is a canvas to display my artistic passion and develop the connection that I hold so close to my heart.

Taylor Eichstaedt
Hello! I am a working mom, wife, daughter, granddaughter, musician, sports/books junkie, and a cinephile with a love of water — the most appropriate title depends on the time of day. I was born and raised in the valley and proud to call Petawawa my home.
I have a daughter, Eve, who is my entire world and I work full time as a receptionist for K-9 Headquarters. My spouse is a jack of all trades and works outside all year round.
I have been with K-9 Headquarters since they opened in September of 2020 and l love working with this non-profit Organization. In this role, I welcome, register, and sign-up clients for all the units in the facility (daycare, grooming and training). I gather information about the client and their dog(s), create pet records and answer inquiries on all communication platforms. The best part, getting to spend some time with the dogs!
My little family has two dogs. A 5-year-old German Shepherd and a 2-year-old malamute/shepherd mix.  Both are big, loud, loving and worth every ounce of shedding fur! Dogs are kind, loving, and compassionate. No matter what a dog is doing, they are always present in the moment. I honestly believe that most dogs are a better being than most humans.
I love being a full-time working parent. It also helps that my partner and I both have family close by that are always there to help us out, in ways too numerous to mention. I enjoy being able to share the trials, adventures, craziness and joys of our lives with our families and friends. Life is a bit of organized chaos, but it is beautiful!

Morgan Mathieu
Hi, my name is Morgan Mathieu and I'm a full-time doggy day care supervisor. I love working with animals which is why I went to St. Lawrence college and studied for my Veterinary Assistant certificate. I have worked at two other dog kennels as a kennel attendant and have volunteered at Sandy Pines Wildlife Center, which I recommend every animal lover do.  
I've been with the K-9 Headquarters since November 2020 and have been learning so much since. I have a 4-year-old pug named Percy. She is such a handful so I implement the training tools used at work into my own home.
I love what I do and I believe every animal deserves to be loved and respected.

Stephanie Churm
I joined K-9 Headquarters in August 2020 after moving to Pembroke from Oakville, Ontario.  I came with 15 years of experience in the pet industry, from a short stint as a veterinary assistant at a clinic specializing in exotic and zoo animals, to managing a high-end dog grooming salon and boutique.  Between those positions, I spent a wonderful decade working in a busy Burlington pet store, caring for a wide variety of pets and animals, from the basic to the more exotic such as hedgehogs and sugar gliders.  My specialty was always the reptiles and aquatics and I quickly became the head of those departments, working my way up to becoming the store manager for several years. 
As the manager of K-9 Headquarters, I oversee our staff and try to keep our daycare, grooming, and training divisions operating as smoothly as possible.  I enjoy attending the annual pet industry trade shows and look forward to growing our facility retail space.
I am also the grooming assistant with 4 years of experience as a bather.  I take appointments for nail clipping, baths, and the grooming of most of our large canine clients.  I love trying out new products, combinations, and techniques for grooming the largest, fluffiest pups. 
When I'm not at the K-9 Headquarters, I enjoy hanging out with my two kids, walking my dogs (a hound cross and a retriever/collie cross), reading, archery, gardening, and helping my husband tend to the hundreds of plants that make up our home-based plant business.